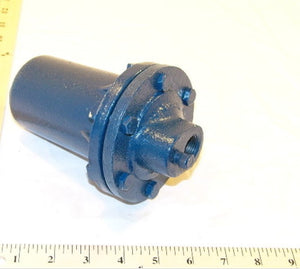 Armstrong 211 Inverted Bucket Liquid Seal Refrigerant Drain Trap
The Armstrong series 211 vertical inverted bucket liquid seal refrigerant drain trap is an economical solution for refrigerant evaporators. Designed to remove air and improve efficiency in evaporators on refrigerant systems, when high pressure gas enters liquid refrigerant lines the bucket will rise and close the liquid seal to prevent high pressure gas from entering the evaporator. All Armstrong inverted liquid seal refrigerant drain traps can be installed in series for large tonnage systems.
The series 211 is suitable for pressure ratings up to 250 PSI and liquid flows up to 780 lbs/hr of continuous R-22 or ammonia discharge capacity.
Trap has a 4-1/4" diameter and 6-7/16" height
Available in sizes 1/2"
Available in pressure differential ratings of 15 PSI, 30 PSI, 70 PSI, 125 PSI, 200 PSI, 250 PSI
---
We Also Recommend