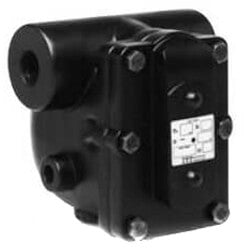 Hoffman Specialty Bear Trap Series I In Line Float & Thermostatic Steam Trap
The Hoffman Specialty Bear Trap series I in-line float & thermostatic steam trap with straight through inlet/outlet configuration is applicable to all types of steam heating and steam process equipment. 
Available in sizes 3/4", 1", 1-1/4"
Available in pressure ratings 15 PSI, 30 PSI, 75 PSI, 125 PSI, 175 PSI
Large ports handle high capacities.
Durable, cast iron bodies provide long service.

Stainless steel valve trim, floats and air vents increase service life.
In-line horizontal piping connections simplify installation and maintenance.

Removable cover for easy in-line maintenance.
---
We Also Recommend