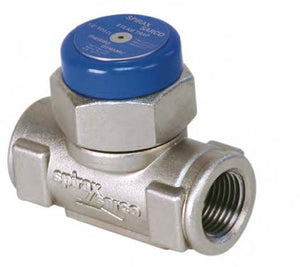 Spirax Sarco Series TDT Thermodynamic Steam Tracer Trap
The Spirax Sarco series TDT Thermodynamic steam tracer trap discharges condensate very near to steam temperature and is unaffected by waterhammer or superheated steam. This trap is specifically designed for steam tracing applications. 
The TDT is suitable for pressure ratings up to 150 PSI and condensate flows up to 100 lbs/hr.
Trap is manufactured entirely of stainless steel
Trap can be installed in the vertical position for "freeze-proof" installation
Available in 1/2" size
---
We Also Recommend