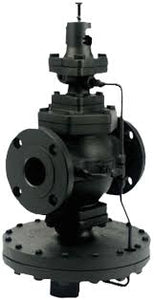 Armstrong Series GP-2000 Full Port Flanged Steam Pressure Regulating Main Valve
Designed for steam pressure regulation service, the Armstrong GP-2000 series full port regulating valve is an externally pilot operated pressure reducing valve.  With a 20 : 1 rangeability and high valve Cv, the GP-2000 is reliable and accurate for a variety of variable steam flow applications.
Available in sizes 1", 1-1/4", 1-1/2", 2", 2-1/2", 3", 4", and 6" Flanged
Spring ranges of 3 - 21 PSIG and 15 - 200 PSIG available in all sizes

Spring range of 1.5- 3 PSIG available in 2-1/2" 150# flanged rating only

Minimum inlet pressure of 15 PSIG.
If remote mounting is required, specify at time of order. Pricing will remain the same!
Capable of on/off options with solenoid valves, and hardware kit sold separately!
---
We Also Recommend