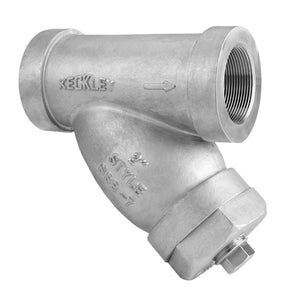 Keckley Style SSB-7 600# Threaded Stainless Steel "Y" Strainer, DOMESTIC
The Keckley style SSB-7 "Y" strainer is fabricated of a 600# class 316 stainless steel body with threaded (NPT) connections and a gasketed cap. Usable in steam pressure applications up to 600 PSIG and 838 F. Usable in water, oil, and gas applications to 1440 PSIG and 100 F. All strainers on this page are fabricated from castings domestic to the United States of America.
Available  in sizes 1/4", 3/8", 1/2", 3/4", 1", 1-1/4", 1-1/2", 2", 2-1/2", 3"
Standard 1/16" perforations stainless steel screen in all sizes
Non-standard screen selections available, specify in notes during checkout!
---
We Also Recommend