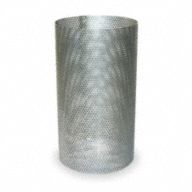 Keckley "Y" Strainer 20 Mesh Stainless Steel Replacement Screen
The Keckley "Y" strainer series comes in cast iron, bronze, ductile iron, carbon steel, and stainless steel body configurations. 20 mesh stainless steel screens come standard for a variety of configurations. 
Standard 20 mesh stainless strainer screen in sizes 1/4" - 2"

20 mesh wire diameter is .015 inches
20 mesh opening is .034 inches

20 mesh has a 49% open area
Specify "Y" strainer series in notes section of checkout!
---
We Also Recommend