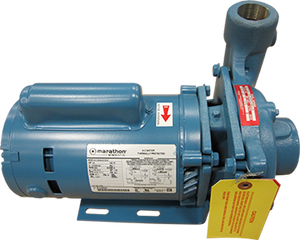 Mepco (Dunham Bush) RC07 Close Coupled Centrifugal Pump, 3450 RPM Motor
The Mepco (Dunham Bush) RC07 close coupled end suction pump is the culmination of nearly 100 years of research and development. Designed with the installer in mind, the Mepco RC series of pumps is designed to be serviced without requiring the piping to be disturbed. Used in industrial and commercial applications, the Mepco RC07 series of pump is capable of flows up to 600 GPM and discharge pressures up to 110 PSIG (254' TDH)!
Standard seal material options of Buna-N (250F)
Standard ODP motor, upgraded TEFC motor available
All bronze construction available for potable water applications!
---
We Also Recommend