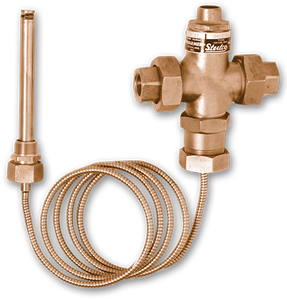 Sterlco R-150-G Reverse Acting Temperature Control Valve
The Sterlco R-150-G temperature actuated self-modulating water regulating valve is the industry standard when it comes to reverse acting valve technology for cooling in rugged applications.  Offering control ranges from 55 F up to 225 F, Sterlco's R-150-G valve can address a variety of cooling solution needs using a brass alloy body construction. With customizable options available in each valve size drop-down menu, select from either Sterlco's standard product or your customized needs today!
Available in NPT configuration 1/2', 3/4", and 1"
Optional additional capillary length selection in each valve size selection drop-down menu below. Minimum requirement of 2' additional length.
Optional non-standard temperature ranges available. Select custom temperature range option and add to cart. Specify in checkout notes what temperature range you need.

Optional calibrated adjustment screw with handwheel for quick adjustment.

Optional stainless steel capillary and temperature bulb available in each valve size selection.
---
We Also Recommend