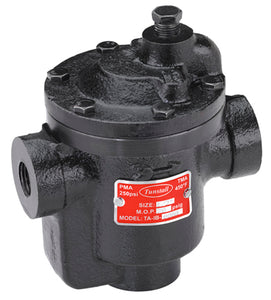 Tunstall Series 8181 Inverted Bucket Steam Trap
The Tunstall series 8181 inverted bucket steam trap is an economical solution for steam process equipment. Best suited for heat exchangers without a modulating regulating valve, kettles, laundry equipment, and other high pressure applications. 
The 8181 is suitable for pressure ratings up to 250 PSI and condensate flows up to 1,060 lbs/hr.
Trap has a 5" face to face dimension
Available in sizes 1/2", 3/4", and 1"

Available in pressure ratings 15 PSI, 30 PSI, 70 PSI, 200 PSI, 250 PSI
---
We Also Recommend