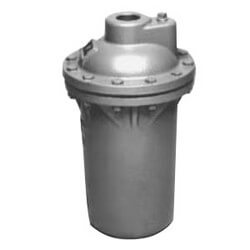 Hoffman Specialty Bear Trap Series B6 Without Strainer Inverted Bucket Steam Trap
The Hoffman Specialty Bear Trap series B6 vertical inverted bucket steam trap is an economical solution for steam process equipment. Best suited for heat exchangers without a modulating regulating valve, kettles, laundry equipment, and other high pressure applications. 
The B6 is suitable for pressure ratings up to 250 PSI and condensate flows up to 20,000 lbs/hr.
Trap has a 10-3/16" face to face dimension
Trap has a 17" vertical dimension
Available in sizes 1-1/2" and 2"
Available in pressure ratings 25 PSI, 40 PSI, 125 PSI, 250 PSI
---
We Also Recommend