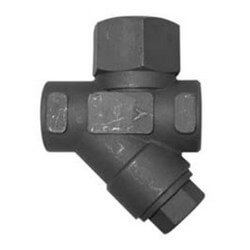 Hoffman Specialty Bear Trap Series TD6420 With Strainer Thermodisc Steam Trap
The Hoffman Specialty Bear Trap series TD6420 thermodisc steam trap with strainer is a compact, robust solution for high pressure steam applications. Best suited for steam tracing lines, molding and vulcanizing equipment, drying kilns, laundry pressing equipment, and other high pressure applications. 
The TD6420 is suitable for pressure ratings up to 600 PSI and condensate flows up to 4,700 lbs/hr.
Trap is manufactured entirely of stainless steel
Thermodisc trap can be installed in the vertical position
Available in sizes 3/8", 1/2", 3/4", and 1"
Optional strainer for removal of dirt and sediment integral to trap body
---
We Also Recommend