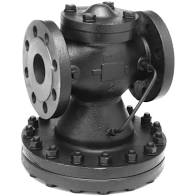 Hoffman Specialty Series 2200 Full Port Steam Pressure Regulating Main Valve
Designed for steam pressure regulation service, the Hoffman Specialty 2200 series full port regulating valve has hundreds of possible applications with the variety of pilot pairings for your steam regulating management needs. Designed with longevity in mind, the 2200 series does not include any packing and has a 2-ply stainless steel diaphragm for tighter system accuracy. 
Available in sizes 2", 2-1/2", 3", 4", 6", all with 125# flanged ends
Minimum inlet pressure of 20 PSI

Minimum pressure differential of 15 PSI

Full port valve designed for maximum flow capacities of up to 62,600 lbs/hr

Normally closed design with .01% steam leakage of valve related capacity

Capable of pairing with spring-controlled pilot, self-contained temperature pilot, air pressure control pilot, or pneumatic temperature control pilot; hardware kits sold separately!
---
We Also Recommend