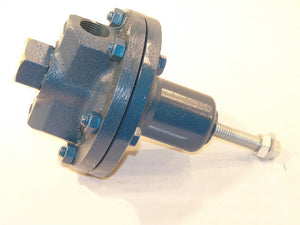 Hoffman Specialty Series 754 Self-Contained Pressure Regulating Valve
The Hoffman Specialty series 754 self-contained pressure regulating valve is an economical solution for reducing steam pressure to process equipment. Best suited for small sterilizers, kettles, laundry equipment, heating coils, and other high pressure applications. 
The 754 is suitable for pressure ratings up to 250 PSI and condensate flows up to 1,400 lbs/hr.
Simple adjustable outlet pressure
Available in sizes 1/2", 3/4", and 1"
Maximum pressure drop of 100 PSIG, for higher pressure drops multiple valves in series are required
Minimum pressure drop of 1 PSIG
---
We Also Recommend