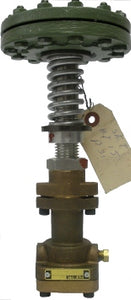 Spence Engineering SP/P Pressure Safety Pilot Operator
The Spence SP/P pressure safety pilot operator is a self-contained spring operated pilot designed for the broadest range of steam pressure safety management in the industry. Normally closed operation to prevent steam leakage, and easy in-line maintenance capabilities make the Spence SP/P pilot the choice for steam pressure safety needs.
If, for any reason, the control pilot should fail, the pressure safety pilot will open up and allow the pressure to escape into the delivery side of the main valve faster than it can enter the lower diaphragm chamber through the restriction. Usually the pressure safety pilot is set from 5-10 PSI above the delivery pressure.
Available in control pressure ranges from 3 PSIG to 120 PSIG pressure safety control needs.
Designed where over-pressurization creates a life safety hazard
---
We Also Recommend