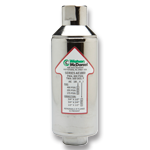 Watson McDaniel AE1800 Air Eliminator
The Watson McDaniel series AE1800 is an air elimination devices for use on vessels and piping systems. The float operated eliminator gives the air removal function a modular characteristic that assists with variable system loads while preventing liquid from escaping. The AE1800 is not repairable. 
The series AE1800 is suitable for pressure ratings up to 400 PSI and temperatures up to 500 F.
Stainless steel body with all stainless steel internals
Available in inlet connection sizes 1/2" and 3/4"
---
We Also Recommend