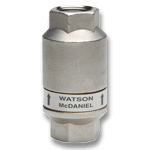 Watson McDaniel AV2000 Thermostatic Air Vent
The Watson McDaniel AV2000 thermostatic air vent is for use in steam systems. With a robust body design the AV2000 series can be used on industrial steam systems where venting air and non-condensable gases from process piping and equipment is needed. 
650 PSIG maximum allowable working steam pressure.

Welded stainless steel thermal element and body design

Integral strainer protects from contamination.

---
We Also Recommend