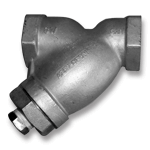 Watson McDaniel CSY Series, Carbon Steel "Y" Strainer
The Watson McDaniel CSY series "Y" strainer is fabricated of a carbon steel body with threaded (NPT), socket weld (SW), and flanged connections. Usable in steam pressure applications up to 600 PSIG at 489 F. Usable in water, oil, and gas applications to 1480 PSIG at 100 F. 
Available  in sizes 1/2", 3/4", 1", 1-1/4", 1-1/2", 2", 2-1/2", 3", and 4"
Standard 20 mesh strainer screen in sizes 1/4" (NPT) - 4" (FLGD)
Non-standard screen selections available. Contact Athena Supply for pricing and availability.
---
We Also Recommend