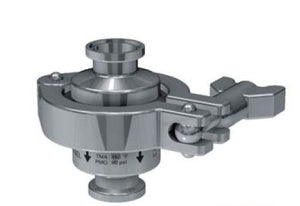 Watson McDaniel FDA500 Series Sanitary Steam Trap
The Watson McDaniel FDA500 series clean steam thermostatic steam trap is used as a drip trap on piping runs for clean steam applications and for drainage on CIP/SIP systems and process vessels. 
The FDA500 is suitable for pressure ratings up to 90 PSI and condensate flows up to 3,400 lbs/hr.
Trap is manufactured entirely of 316L stainless steel
Completely self-draining in the vertical flow downward position
Electropolish finish of 20 - 25 microinches RA on internal surfaces of body, option available for 15 RA surface finish
Special bellows option available for 2 F sub-cooling
Available in tri-clamp, or NPT body connection types
Available in sizes 1/2", 3/4", 1", and 1-1/2"
---
We Also Recommend