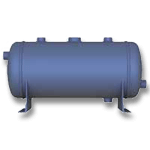 Watson McDaniel WFLH Flash Steam Recovery Vessel
The Watson McDaniel WFLH horizontal flash recovery vessel is installed in condensate return systems to separate flash steam from hot condensate and neutralize pressure in condensate return lines. 
150 PSIG maximum allowable working pressure standard, 300 PSIG available upon request.

ASME Section VIII code vessels

Internal sparge tube and interal drop tube available for when combining multiple different condensate returns.

---
We Also Recommend