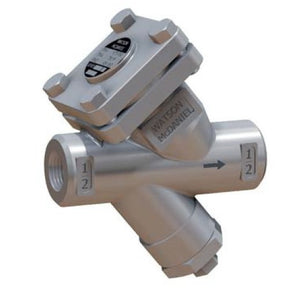 Watson McDaniel WT3003 Series High Capacity Thermostatic Steam Trap
The Watson McDaniel WT3003 series thermostatic steam trap is best suited for steam tracing lines, steam main and supply line drip trapping, and other process applications. These traps are fully in-line repairable.
The WT3003 is suitable for pressure ratings up to 650 PSI and condensate flows up to 7,004 lbs/hr.
Trap is manufactured entirely of stainless steel
Optional "S" model includes integral strainer and "SB" model contains strainer and blowdown valve.
Available in sizes 1/2", 3/4", and 1"
Inquire for "SLR" steam-lock release option, fail-closed bellows, and flanged connections
4-1/2" face to face dimension, replacement for Nicholson N650 thermostatic steam trap with 5" face to face dimension
150#, 300#, and 600# flanged connections available
---
We Also Recommend