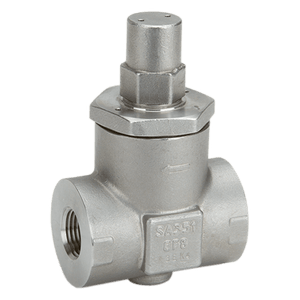 Watson McDaniel WT5000 Series Bimetallic Steam Trap
The Watson McDaniel WT5000 series bimetallic thermostatic steam trap has two dissimilar metal plates connected to its valve assembly that respond to temperature variations. Best suited for steam tracing lines where accurate and adjustable temperature control is required.
The WT5000 is suitable for pressure ratings up to 650 PSI and condensate flows up to 942 lbs/hr.
Trap body, cover, seat, and stem are manufactured entirely of stainless steel
Trap can be installed in the vertical position for "freeze-proof" installation
Field-adjustable bi-metal element allows control of condensate drainage temperature
---
We Also Recommend